IUE Calcio – Atletico Impruneta 0-2
MATCH REPORT
Goalie: Cosimo
Defensers: Robe, Ludvic, Frank, Patrick
Midfilders: Gazza, Albert, Gianni Carremani, Trombi
Strikers: Bomber, Il Turco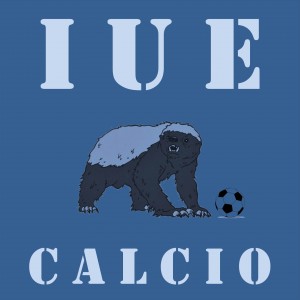 Needed a victory. A victory for the classification, for the moral and for goalkeaper's birthday.
Ufortunately nothing of this happened, and the usual beer at Finnegans was more bitter than usual.
Despitehaving played an equal the match finish 2-0 for Impruneta.
The game started with the guests very aggressive and after a few minutes, at the first real opportunity, Impruneta took the lead with a good shoot from about 15 meters. Cosimo remains stationary (pheraps for te Fiorentina's steack eaten in the lunch) non exempt from faults.
But IUE reacts. Infact many times it is Dangerous also affecting a pole after a shoot by Gianni Carremani. But bad news not slow in coming and Midway through the first timeon a high ball, Cosimo commits naive that gives the second goal to the visiting team. However first time ended with IUE that does not give up, tryng to shorten the distance.
Second time open with a series of sensational opportunities foe the hosts: in a single action about 80 shot makes the goal at risk, but it all ends with a goal in outside…sfortuna pura! Another attempt by IUE but nothing to do: Impruneta taketh Cerreti at the expense of Squadra Fantastica.
Some positive notes and considerations:
1- Team playeda very good match. Bud luck sometimes plays tricks and the result's a little liar.
2- As Presi says: "It is normal to not be able to win without Diego Garzia".
3-The Championship is still very long, so let's move on, Always giving our best. You will see that the results come.
Thanks to the Squadra efforts in recent months
Thanks to Google translator
Greetings from Cosimo