Up to new challenges
After winning for the first time in EUI history the B2 league, another great adventure is about to begin: A new league, a higher level of competition, a higher level of football. During the last season, a certain number of words and phrases have started to define the philosophy of our Squadra Fantastica:
– Spettacolo puro
– Protagonisti assoluti
– Una squadra di campioni siamo noi
These are the principles that will also hopefully guide us during the next season. The Squadra Fantastica is about integration: It integrates the people within the institute, and, in the words of our great Presi, "brings the EUI closer to the city and the city closer to the EUI". Integration happens both on and off the pitch: On the different football fields in and around Florence we impress the locals with our tiki-taka football, and after every match we let the spettacolo reach even higher levels by refueling ourselves at the legendary Finnegans, the Squadra's most important partner.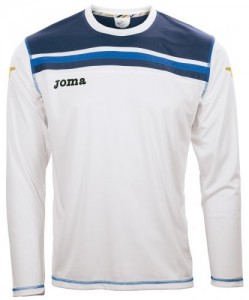 The Squadra is therefore a channel through which researchers, staff of the EUI and a selected number of locals become friends for life. Moreover, after having won the league, this year we have the opportunity to let the Squadra become the face through which the Institute presents itself to to the city. It is for this reason that this season we will play in a new EUI-coloured jersey (see picture and imagine the EUI logo on the left side, where the heart is).
With our multicultural team and a correct behaviour on the pitch, every match the Squadra plays is a success, whatever the final result will be. The purpose is to let every member of the Squadra enjoy every training session and the joy of being part of the Squadra will automatically result in better football and better results. Of course, not every member can participate to every match, but the Misters will do their best to guarantee a fair rotation, based both on the performance of the players and on the attendance at the training sessions.
The Squadra is now up to a new major challenge: Make this season become better than the last one. The contribution of each member will therefore be fundamental! While waiting for the official recording, let's remember the lyrics of our hymn, written by our Presi and D19:
From Castellina down to Campi Bisenzio, From Sesto Fiorentino all'Affrico, they're all aware there's just one Squadra Fantastica, fighting for glory, honour, and our…. IUE, IUE!!!!!!!!!
Forza IUE!!!!!