Cadmus: OpenAIRE compliant, WorldCat synchronised and Dspace upgrade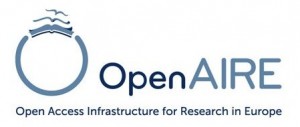 As of today, the EUI Repository Cadmus is fully OpenAIRE compliant.
OpenAIRE  is the tool and infrastructure of the European Commission to promote and monitor Open Access to research publications and data as required for research funded by EU.
Being OpenAIRE compliant means that all full-text publications in Cadmus that are based on research carried out in the framework of ERC and FP7 projects are automatically included in the OpenAIRE portal. OpenAIRE is retrieving data from compliant repositories using the Open Archives Initiative Protocol for Metadata Harvesting (OAI-PMH).
The ERC/ FP7 funded content is harvested periodically, indexed within the OpenAIRE portal and presented in the OpenAIRE search and browse section.
This is of great importance for the visibility of a project's research output. In this way, the project publications deposited in Cadmus can be read, used and cited more widely by the global research community.
Search and see the Cadmus entry in the list of Open AIRE compliant Repositories. 

The fact that Cadmus is compliant with OpenAIRE is a direct help for faculty members who are project leaders in complying with the Open Access requirements of the European Commission.
In order to be harvested by OpenAIRE, the publications descriptions must contain metadata regarding the project name and grant number, information regarding the type of publication and indication that the publication is available in Open Access. Cadmus staff needs to obtain this information from authors and project directors which full text publications are based on ERC/FP7 funding. OpenAIRE compliancy allows the Cadmus team to offer this additional service to project directors. If you have ERC/FP7-funded research, kindly provide the research outputs to [email protected]
At the EUI project leaders and directors shall use and fill out this Project Publications Form
It will help you in planning, formatting and disseminating your publications as well as assistance with web issues. It will also assure that your project is part of the page containing the EUI A-Z list of Research Projects
If you are a grant recipient from ERC or from FP7 in one of the following Research Areas, you are required to deposit your publications!
Energy;
Environment (including Climate Change);
Health; Information and Communication Technologies (Cognitive Systems, Interaction, Robotics);
Research Infrastructures (e-infrastructures);
Science in society;  and
Socio-economic sciences and the humanities
Publications from projects funded by the future Horizon 2020, EU's Framework Programme for Research and Innovation (2014-2020) will also be part of OpenAIRE.
Cadmus in WorldCat, The World's Largest Library Catalog
Since March this year, Cadmus' bibliographic data is searchable and retrievable in WorldCat, the world's largest Catalogue. Library staff has arranged so that Cadmus metadata is being harvested regularly by WorldCat. The visibility of publications included in Cadmus is guaranteed by the standard protocol for metadata harvesting (OAI-PMH), the same as used for Driver and Open AIRE compliancy.
DSpace Upgrade
Cadmus new version of DSpace (1.8.2) has a new look, better search performance (Solr Discovery search) and is able to handle embargoed publications freeing them by a certain date.
Users can register for RSS/Atom feeds for the collections of interest.
More about Cadmus and its Open Access networks