Can you recommend a book?
The pandemic stress exhausted you and you can't find a new book to read? Do you want to tell the world about that amazing novel that changed your life? World Book Day – Sant Jordi is coming to help you out!
What is it?
For the 5th year we will celebrate UNESCO's World Book Day – or Sant Jordi in Catalonia – like the Catalans do: with book recommendations and roses! Our goal is to get to 23 April with book recommendations from all around the EUI that we can share with the whole community. This year we would love to have your memes and/or your bookfaces. The funniest recommendation, chosen by a jury of librarians, will win a book kindly gifted by the Secretary General Marco Del Panta.
How?
Send us a meme by writing to [email protected] (or send us a private message on any of our social media platforms) by 18 April. The meme will be about a book that you do (or do not) recommend. If you wish to give us more details, tell us why you chose that book. We will turn it into a social media post, like this: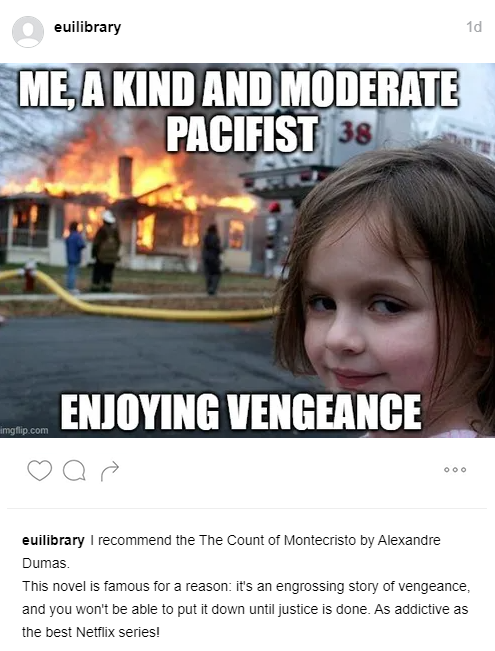 Alternatively, you can express your creativity with a "bookface". If you don't know what we're talking about, think of it as a merge between reality and a good book cover:
In the past, the Library Instagram account shared some academic bookfaces that is worth digging out for the occasion:
What happens on World Book Day?
We will share your book recommendations on 23 April and we will award the funniest suggestion. If you wish to remain anonymous, no problem, we will protect your identity and you can be the EUI's Elena Ferrante of memes.
Need some more inspiration? Have a look at Meme Generator and at the bookfaces people pull off around Instagram.
If you'd like to read book recommendations from previous years, here's the full list: