EUI Open Access Week 2017: the Crossword Winners
Last month, during Open Access Week, the Library launched a competition.  The goal was to complete an EUI themed crossword, printed on the canteen tray sheets, which was not as easy it sounds: if you didn't have a chance to play, print the picture below and give it a try. Do you know all the answers without googling?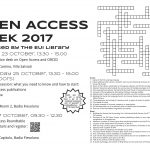 We are pleased to announce the winners and their prizes:
1st: Judith Wolff, trainee at the Historical Archives, with a flawless crossword. Judith wins two open tickets to the exhibition The Cinquecento in Florence: from Michelangelo and Pontormo to Giambologna at Palazzo Strozzi.
2nd: Olga Ceran (Law researcher) and her team (Janneke, Marta and Ihintza) tied with Charlotte Lekhal, trainee at the Historical Archives. They all got only 3 letters wrong and they win an orchid, which will always remind them of the other ORCID.
We would like to thank all the participants for their enthusiasm and we hope to see you next year at the EUI Open Access Week 2018!
PS: here's the solution: