A Financial History Review Bibliography Online Database with Cambridge
The Financial History Review Bibliography is an authoritative guide to works published in the field of Financial History since 1990.The Online database accessible through the Cambridge Journals Platform, is a consolidated version of the former printed bibliography that was published in the Financial History Review between 1994 (for the years 1991-1993) and 2009.
"Established in 1994, the CUP journal Financial History Review has earned a solid international reputation as an academic journal committed to research of high scholarly standards. The Review deliberately seeks to embrace a broad
approach to financial, banking and monetary history, which appeals to a wide audience of historians, economists and practitioners."  The journal "welcomes different perspectives including analytical narratives, theoretically-inspired research, advanced empirical analysis, and the interrelations between history, finance, policy, culture and society. FHR provides a global perspective on national and international financial history and publishes research articles dealing with any historical period and country or regional area." […] ("The Financial History Review is indexed by the following services: EBSCO Historical Abstracts, EBSCO America: History and Life, Scopus, IBSS: International Bibliography of the Social Science, RePEc: Research Papers in Economics, IDEAS, RHS Bibliography, JISCRI Journals Tables of Contents, EconLit – American Economic Association, IB
At the moment, the financial bibliography of books, books chapters and journals articles published between 1991 and 1999 is not yet included in the online database.
The European Association for Banking and Financial History in Frankfurt-am-Main (EABH)  and Cambridge University Press are collaborating to digitise additional records dating back to the first appearance of the bibliography in the Financial History Review in 1994. At the moment (May 2013), the Bibliography brings together, in a searchable database, every record collected since 2000 and up to 2010.
The search form allows quick and advanced searching and limiting capacities using Boolean operators: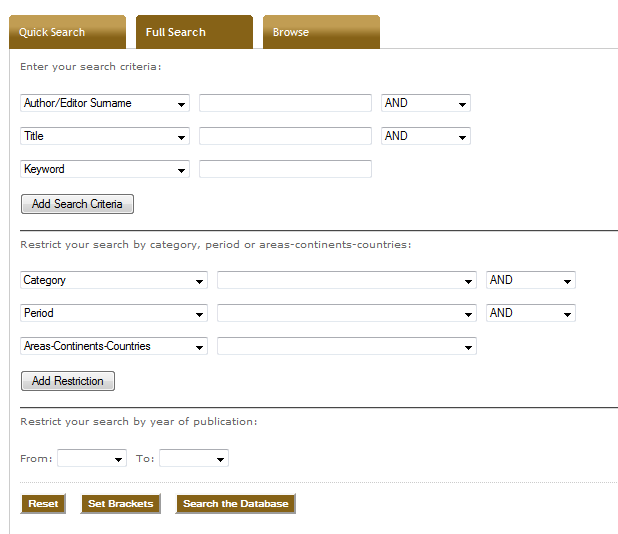 The FHR bibliography database will be regularly updated and if you need to know more about, or plan to use it to support your research, don't hesitate to contact Serge Noiret, EUI History Information Specialist, and FHR bibliographer.