Science Direct articles for mobile devices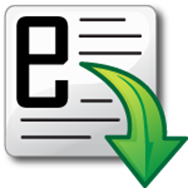 eReader Formats is an application that allows you to convert a ScienceDirect article in ePUB or Mobi, formats widely used by electronic readers and mobile devices such as Sony® Reader, Amazon KindleTM, iPhone®, iPadTM, Barnes & Noble nookTM, etc. With this app, instead of downloading and printing a PDF article or book chapter, you can download and load on your device all articles or chapters relevant to you and your work. This application is not subject specific.
Britain's influential Economic and Social Research Council (ESRC) now has its own Facebook page
The ESRC is the UK's largest organisation for funding research on economic and social issues. The ESRC supports independent, high quality research which has an impact on business, the public sector and the third sector. At any one time the ESRC supports over 4,000 researchers and postgraduate students in academic institutions and independent research institutes.