Thinking About Librarianship & Women
Since the late 19th century, when it was recognised as an organised profession, librarianship has been understood as a viable career option for women – first as a place where they might provide administrative support to the intellectual efforts of the predominantly male librarian cadre but, by the early 20th century, as a women's profession (Weibel, Heim & Ellsworth, 1979). Now described as a "feminised" profession, the percentage of women involved across librarianship has remained unvaried, at over 80%, since the 1970s (Weibel, Heim & Ellsworth, 1979; Harris, 1992; Hall, Ryan, Raeside, Dutton & Chen, 2015). Inequality remains inherent in feminised professions, which have variously been dubbed "pink collar" and "semi professions," and library literature is replete with scholarship on pay disparity, lower status, and the lack of autonomy for librarians. As our scholarship has evolved, librarianship has also been criticised for its Whiteness (see, for example, Schlesselman-Tarango, 2016; Espinal, Sutherland & Roh, 2018; Ettarh, 2018; Loyer, 2022), and lack of general diversity (see, for example, Adolpho, 2016, 2021; Drabinski & Keilty, 2016; Carman & Walters, 2020).
The librarians who follow are included here to highlight their important contributions to the profession. This is not an exhaustive nor even a representative list but, rather, we hope you are inspired by their accomplishments and contributions to the field.
Hypatia of Alexandria (Greece; circa 350 – 415 AD)
Hypatia i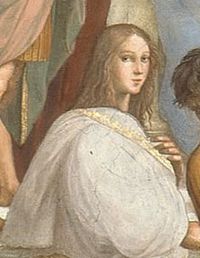 s often cited as the first female librarian. She gained this title as she and her father, the mathematician Theon, preserved important mathematical works to write commentary on them and make them available to their students. She was a woman of many talents, a philosopher, teacher, editor, mathematician, and guardian of knowledge.
Sources: López Martínez, M. P. (1). "Había una mujer en Alejandría que se llamaba Hipatia": su presencia en Ágora de Amenábar. Asparkía. Investigació Feminista, (25), 202-222.
Rosa Manus & Atria (Netherlands; 1881 – 1942)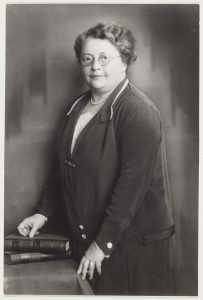 Though not recognised as a librarian, Manus is one of three Dutch suffragists, along with Johanna Naber and Willemijn Posthumus-vander Goot, who were responsible for creating the International Archives for the Women's Movement (IAV). The IAV, established in1935, was one of the first archives dedicated to the preservation of women's history. It was looted by the Nazis but the remains grew into Atria, the world's largest collection of resources related to European women's heritage. Manus, who was Jewish, was killed in a concentration camp.
Source: Atria, institute on gender equality and women's history.
Suzanne Breit (France; 1894 – 1989)
Known as "Madame Documentation," Breit was a French librarian at the Bibliothèque Nationale who published the important treatise, Qu'est-ce que la documentation? (1951). Her vision of the definition of documents as moving beyond traditional paper texts was an important idea that foreshadows our understanding of information in today's digital library context, if not the broader society. Breit wasa productive writer who considered the important intersections and connections between technology and society but her impact on library science is little acknowledged today.
Source: Breit, S. (2006). What is documentation? (R. E. Day, L. Martinet & H. G. B. Anghelescu, trans.). Scarecrow.
María Moliner (Spain; 1900 – 1981)
Moliner was a Spanish librarian, philologist, archivist, lexicographer, and antifascist. Raised in abject poverty, she received a degree in history and subsequently ran the library at La Escuela Técnica Superior de Ingenieros Industriales, in Madrid, until her retirement. Moliner published one of the most important Spanish language dictionaries, Diccionario de uso del español (1966), after noticing the shortcomings of the dictionary created by the Real Academia Española de la Lengua. The dictionary, which she wrote in her spare time, is comprised of two volumes, nearly 3000 pages, weighing three kilos and, as García Márquez (in El País, 1981) explains, it is "more than two times as big and […] more than two times better" than that of the Real Academia de la Lengua.
Source: María Moliner. (2023, March 2). In Wikipedia.
Henriette Avram (USA; 1919 – 2006)
Avram is the librarian credited with developing the MARC (Machine Readable Cataloguing) format for the American Library of Congress. The invention of a standard bibliographic practice has allowed for the automation of library cataloguing and sharing of library records across libraries. MARC began as an American English standard but soon evolved to allow other languages and, eventually, languages with non-Roman characters. Avram and her team were given just 8 months to build the first iteration of MARC, the cataloguing format that revolutionised libraries.
Source: Guion, D. (2021, March 13). Henriette Avram and the modern library catalog [blog post]. Reading, writing, research.
Carla Hayden (USA; 1952)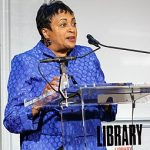 Hayden is both the first woman and the first African American to hold the position of Librarian of Congress in the United States. She has worked in libraries since 1973, completing her master's degree in 1977 and her Ph Din 1987. In 1993, she was awarded the Library Journal Librarian of the Year award for outreach work at the Enoch Library, in Baltimore. She is also a past president of the American Library Association.
Rafaella Lamberti (Italy; 1938) & Associazione Orlando (Italy; 1983)
Lamberti, a teacher, is the creator of the Orlando Association, a group responsible for the development of the Centro di documentazione, ricerca e iniziativa delle donne della città di Bologna, second only to Atria (Netherlands) in importance in European women's documentation. Choosing the name "Orlando" in 1983 (after Woolf's 1928 novel), the roots of the association began in the 1970s with Lamberti, Marina Mizzau, Gianna Pomata and Cristina Cacciari who had a desire to preserve women's heritage and show its value throughout history using a transcultural and transnational approach. Today, Orlando runs the Bologna women's centre, which includes the women's library and archives, as well as the "ecosistema digitale di genere," as a place for collaboration and meeting with the goal of "fighting exclusion, inequality, digital marginalisation and violence against women" (Chi siamo, n.d.).
References
Adolpho, K. (2016). Decolonizing library science [self-published zine].
Carman, E., & Walters, J. (2020). Trans and nonbinary library people are everywhere. Library Journal, 145(9), 10–11.
Drabinski, E., & Keilty, P. (2016). Introduction. Library Trends, 64(4), 641.
Espinal, I., Sutherland, T., & Roh, C. (2018). A holistic approach for inclusive librarianship: Decentering whiteness in our profession. Library Trends, 67(1), 147–162.
Harris, R. M. (1992). Librarianship: The erosion of a woman's profession. Ablex Publishing Corp.
Loyer, J. (2022, June 7). How can we disrupt the singular white man's joy that shapes our collections? Opening keynote. CAPAL 2022.
Weibel, K., Heim, K. M., & Ellsworth, D. J. (1979). The role of women in librarianship, 1876-1976 : the entry, advancement, and struggle for equalization in one profession. Oryx Press.