When law comes to town: the European legal framework for digital labour platforms in the "collaborative economy"
by Antonio Aloisi (MWF-LAW)
The European labour market is experiencing radical change, fuelled by digitalisation, "platformisation", and demographic dynamics. Think of pioneers such as the ride-hailing company Uber, the on-demand delivery multinational corporations Deliveroo and Foodora, the cleaning services firm Helpling or the professional freelancing dispatcher UpWork. How many times do you use their apps to get a ride, order a pizza, clean your room or translate your articles? These novel infrastructures have a strong impact on the organisation of firms' work and, above all, on the relationships between employers and employees (or between clients and workers). Platform firms engage with "providers", invariably classified as self-employed workers, on a hyper-volatile basis. Despite this,
many of these self-proclaimed intermediaries exert some degree of managerial power, albeit in a sophisticated form, while avoiding the obligations of direct employment.
The European Union institutions have shone a spotlight on the phenomenon of working in the so-called "collaborative economy", unanimously described as the most visible portion of a broader trend towards de-standardisation of employment relationships and de-mutualisation of risk. Interestingly enough, platform-mediated arrangements are particularly significant sites for investigating how classical legal notions and formats can adapt to new templates. A recent report by the Joint Research Centre (JRC), the in-house scientific service of the European Commission, focuses on a major subset of questions raised by the spread of platform work across industries and Member States:
is the existing legal framework appropriate and suited to accommodate new organisational formats in the gig-economy? If not, is there a need for new legislation?
This JRC report maps a kaleidoscopic array of platform-mediated arrangements, by clustering the findings into three selected subsets (passenger transport services, professional crowdsourcing, on-demand work at the client's premises) [Figure 1 below]. Scrutinising the concrete operation of platforms might help scholars, practitioners and policymakers address complex issues concerning the scope of employment law and, broadly, the state of play of the social compact. Before assessing the relevant regulatory framework, the study describes the operation of a set of European as well as global platforms throughout five different phases. In doing so, it takes into consideration the relationship between workers and platforms in key phases: (i) access and registration, (ii) selection process and hiring, (iii) performance execution and command power, (iv) rating and ranking, monitoring power (and deactivation), (v) payment rewards for completed tasks.
Against this background, the JRC paper focuses on the European initiatives aimed at promoting decent work in the "collaborative economy", namely (i) the European Commission's Communication COM(2016) 356, (ii) the principles enshrined in the European Pillar of Social Rights, and (iii) the ruling by the European Court of Justice on the nature of the service provided by Uber. Moreover, the report investigates in depth existing regulatory schemes, ranging from European Directives on atypical employment to casual work templates, such as zero-hours or voucher-based contracts. After exploring the existing legal models in several European countries, this study goes into the issue of the legal status of platform–based or –mediated workers by analysing what is at stake in pending litigations on the proper classification. Standard methods of social science research and legal analysis are combined to outline normative and contractual templates, which can easily be used to regulate modern organisational patterns.
Figure 1. Typologies of digital labour platforms.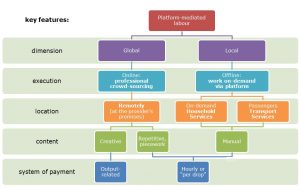 Source: Authors' own elaboration.
Main findings, key conclusions and policy pointers
Digitally mediated working templates blur boundaries between traditional classifications, such as work and rest periods, amateurism and professionalism, subordination and autonomy. By taking into account this significant heterogeneity, which may entail contrasting juridical implications, a common business model could be traced consisting in the "instant" matching of demand and supply of labour, facilitated by digital tools that make it easy to manage a large and "low-cost" workforce, by dropping transaction costs and easing barriers to entry and information asymmetries. This alternative model touches on the foundation of traditional employment protection legislation and social security systems.
The (new) world of work is characterised by an increased tendency towards relationships that are not based on direct employment contracts.
Available research reveals pervasive directives, reinforced surveillance, constant assessment, arbitrary disciplinary action and very little or no margin to decide how to complete a task.
The model does not contain any entitlement, such as overtime, paid holiday leave, maternity leave, sickness payments and statutory minimum wages. Furthermore, workers are excluded from fundamental principles and rights at work, such as freedom of association, collective bargaining or protection against discrimination or unfair dismissal.
In brief,
the JRC paper shows how it is feasible to temper the impulse to digital distinctiveness with actions to safeguard workers' rights.
Contrary to what is often said, the authors argue that the standard employment relationship and, more generally, current legal formats are not undergoing an irreparable crisis. In addition to this, it cannot be denied that the lack of compliance with labour-related, fiscal and social security duties constitutes platforms' main competitive advantage vis-à-vis their competitors. This regulatory arbitrage results in an aggravation of existing conceptual tension and, what is worse, in an exacerbation of social precariousness as platform workers have very limited access to labour protection.
Only a few European States have adopted specific regulations to address the numerous issues stemming from the advent of the platform economy: the model is mercurial in nature and a hefty intervention may provoke its premature asphyxiation. Instead of a one-size-fits-all approach, "surgical" regulatory interventions could help the collaborative economy companies to improve their business model. In this sense, the current European attitude is perceived as a fair balance between supporting entrepreneurs' confidence and implementing workers' protections, but considerable efforts need to be made in order to ensure a stable and sustainable future.
If the goal is to develop sustainable digital ecosystems and social institutions where high-quality employment and competitiveness are mutually reinforced, the application of existing regulation must be strengthened, in order to avoid the risk that platform workers are considered, by default, to fall in a normative vacuum. Therefore,
reaffirming the major binary divide between genuinely self-employed workers and those in an employment relationship would be helpful in the attempt to reduce labour market segmentation and rising inequalities.
Understandably, another answer might be to close legal loopholes that incentivise the exploitative conduct of a marginal group of deceitful companies.
By contrasting the sense that new realities of work have outgrown legal concepts, the report validates the effectiveness of existing labour law regulation, since until very recently little systematic effort has been made to establish how common statutory rules and standards should apply. Accordingly, it intends to "normalise" the discourses surrounding the digital transformation of work and the rise of non-standard forms of employment. In the end, creating a level playing field between the traditional and the digitally enabled companies is the only way to reap the full benefit of the on-going digital transformation. Indeed, platform workers do not necessarily need new regulations, but instead more effective enforcement and an unambiguous legal framework.
—————————————————————-
Antonio Aloisi is a Max Weber Postdoctoral Fellow in the Law Department at the EUI and Teaching Fellow in European Social Law at Bocconi University. His research focuses on non-standard employment and platform-mediated work both at the individual and the collective level. His interests span employment law and industrial relations. With Valerio De Stefano he is the author of European Legal framework for digital labour platforms, European Commission, Luxembourg, 2018, ISBN 978-92-79-94131-3, doi:10.2760/78590, JRC112243.