The Regional Geopolitical Implications of the Ukrainian Conflict for Syria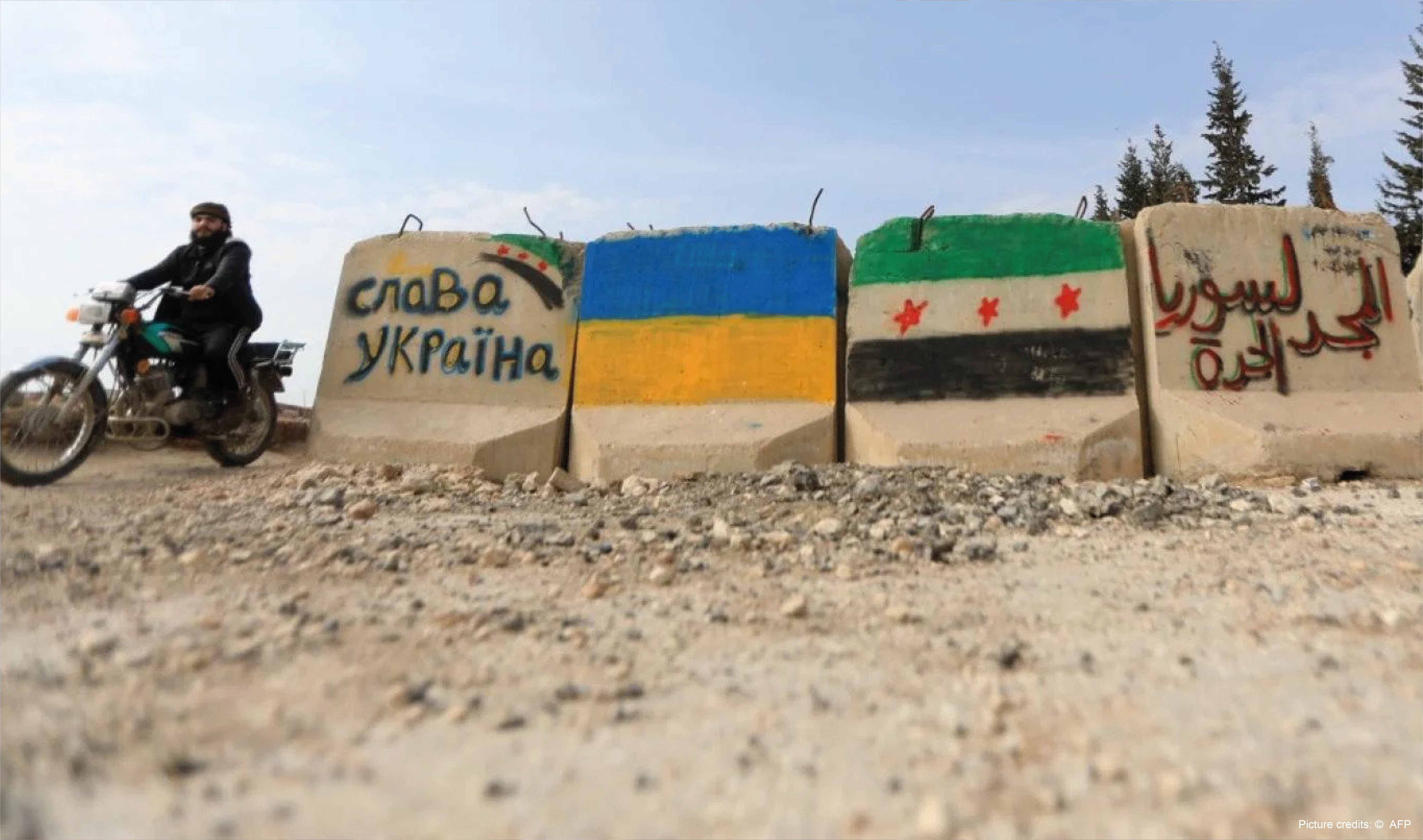 The Russian intervention in September 2015 was a central turning point in the Syrian conflict. The resulting territorial regime gains, the ensuing stalemate, the deadlock in political negotiations and the inability to induce meaningful change in Syria frustrated Assad's detractors and slowly deprioritised resolution of the conflict on the international agenda. However, as the Russian invasion of Ukraine is further distracting the international community's fading attention away from Syria, it may also trigger new dynamics on the ground and unique opportunities for regional diplomacy. With Russia distracted in Ukraine, regional actors may sense there is an opportunity to press their agendas in Syria.
Turkey Seeks Certitude
In Ankara, the Turkish political elite is already engaged in the 2023 election, preparing for their toughest electoral battle since 2002. While President Erdogan's popularity has lately recovered some of its lost appeal thanks to his management of Turkey's role in the Ukrainian conflict, much of his campaign will be led by tangible results that he is expected to deliver on the economic front and the Syrian refugee issue. While Syria has always been present in Turkish political discourse for the last eleven years, a different tone and objective are expected to emerge in the next few weeks and months.
First, Syria is no longer domestically primarily perceived as a security threat. The Democratic Union Party (PYD)-led Autonomous Administration in north-eastern Syria remains problematic and a concern for the Turkish security and military state apparatus, but the prospect of a new military campaign in Syria would not instigate as much popular fervour as it did a few years ago. Only a substantial blow to the PYD could propel the president's popularity on the military front. Second, Syria, and particularly the north-western territory, is increasingly perceived as a resettlement destination for refugee 'returnees.' Tolerance of Syrian refugees is dangerously waning and their presence is regularly associated with Turkey's flagging economy. To appease popular demands, Ankara needs to invest most of its efforts in showing more efficiency in decreasing and regulating the Syrian presence at home.
Therefore, given the Russian attack on Ukraine, a new possible recalibration of Turkish Syria policy could materialise in two ways: enforcing a permanent status quo in Idlib and northern Aleppo; and encouraging an end-game scenario in north-eastern Syria. With Russia distracted in Ukraine, Turkey could be tempted to re-enforce the de-facto autonomy of north-western Syria by allowing a gradual merger of two military/governance entities: the Syrian National Army (SNA)/Syrian Interim Government and the Ha'yat Tahrir al-Sham (HTS)/Syrian Salvation Government. This might lead to an eventual formation of a central authority to govern the region. Recent reports indicate that preliminary meetings between HTS representatives and SNA factions have already taken place. This rapprochement could be further accelerated as HTS is poised to exploit any structural weakness in the SNA to further infiltrate its ranks.
To the east, Turkey's calculus is more complicated. Ankara is offered two choices: either to seek an endgame with the Americans in tacitly recognising the PYD's authority; or to engage with Russia in facilitating the regime's return to the region. The first choice could present Turkey with a possibility to demand American reciprocal recognition of its de facto authority in all north-western Syria, thus reassuring it in the eventuality of a clash with Russia. However, a normalisation process with the PYD could domestically backfire and add more strain on the government. Such a path has little chance of materialising and could only be envisaged after a secure election outcome. Alternatively, Ankara has genuine doubts about the regime's capacity to control north-eastern Syria and to subdue the PYD. Any concessions without guaranteed results would fail to rally enough support among the Turkish military and security apparatus. On the other hand, the regime also has little incentive to provide peace of mind and a victory to help Erdogan win the next election.
Consequently, Ankara could put a third option on the table: a series of common individual structural targets with the strategic objective of weakening the PYD while gradually working towards a new security arrangement with Damascus in the north. Turkey  has been targeting SDF positions along the M4 highway and expects the Biden administration to continue turning a blind eye as long as it refrains from launching a large-scale attack. In such a scenario Russia could play a vital role mediating between Ankara and Damascus and would positively perceives it as an opportunity to preserve its relationship with the former.
Indeed, Turkey may seem well positioned to take advantage of a Russian debacle or protracted conflict in Ukraine but domestic imperatives are dictating a different path. Ankara will remain conservative in Syria and will not exploit Russian weakness beyond negotiating certainty and a guarantee of sustainable stability in the north.
The Return of Iran?
Despite the pivotal role the Russian intervention played in preserving the Iranian military and political presence in the country, Tehran's sway over Damascus was challenged by Moscow and its strategic assets became more vulnerable as a result of the de-confliction process between Russia and Israel. To say the least, Iran has nurtured grievances since 2015 but it was not able to challenge Russia's position in Syria. Should Washington and Tehran conclude the final rounds of negotiations over the JCPOA and reach an agreement, Iran would be poised to benefit from Russia's distraction in Ukraine in two ways.
First, the removal of sanctions associated with a deal would provide Iran with more revenue, particularly from oil and gas sales. While the bulk of these funds would be expected to relieve the hard-pressed Iranian domestic economy, the Islamic Revolutionary Guard Corps (IRGC) would demand a sizeable portion to ramp up its activities in the Arab world. In Syria, this would take two forms: more financial support for the local militias it backs; and more investment and contracts in the dying Syrian economy. There are no indications of a clear intention to horizontally expand the Iranian territorial presence in Syria, but instead a vertical entrenchment in regime-controlled areas.
Second, the IRGC is prepared to re-instate its men in key positions in the Syrian military and security apparatus while Russia's diplomatic and military attention is focused on the development of the Ukrainian conflict. Even though Russia has never matched the Iranian financial and human contribution to maintaining Assad in power, Damascus has so far relinquished more power to it in the hope of mediating faster rehabilitation of the Syrian regime on the international scene. This choice was made easier with the maximum pressure strategy that the Trump administration imposed on Iran. However, as Russia's international notoriety is challenged, Damascus must bounce back to Tehran to guarantee a new alternative lifeline. In return, Iran would attempt to put the Military Intelligence Directorate under its influence once again while the loyal Fourth Division would harvest more influence and authority on the ground.
Nevertheless, the conflict in Syria between Israel and Iran is unlikely to diminish. On the contrary, Israeli sensitivity could be heightened and trigger a more assertive preventive strategy to thwart further IRGC expansion in the region. Moreover, the Iranian presence in Syria would still be perceived by the Israeli army as a low hanging fruit and an easier target to strike than Iran for fear of angering the Biden administration. On the other hand, Iran's reaction could turn out to be violent and regional proxies could be encouraged to target Israel or its new Arab allies to make Tel Aviv rethink its strategy.
A New Arab Embrace
Assad's rehabilitation at the regional level started three years ago with the UAE's and Bahrain's decisions to end a six-year period of diplomatic isolation. These efforts received a considerable boost following the Egyptian decision last autumn to re-activate the Arab Gas Pipeline and Assad's recent visit to Dubai last month. This three-year gap between the first round of diplomatic normalisation with Damascus and the second also marks a shift in objectives and the outcomes hoped for. While initial intentions focused on confronting and competing with both Iran and Turkey in Syria, recent expectations have been downgraded to keeping Syrian governance structures in place.
Arab countries have different reasons to re-engage with Assad: economic, trade and security. However, these diplomatic efforts are also complementary to nascent security arrangements in the MENA. The growth in relations between Abu Dhabi, Moscow and Beijing has been central to the UAE's global partnership diversification strategy. It has allowed it to gain greater autonomy from its traditional Western partners in the evolving world order. Similarly, the Abraham accords have also prepared the ground for a new alternative security architecture to preserve the UAE's interests. Therefore, the Emirati calculus also considers its new partners' interests. Both Moscow and Tel Aviv call for re-integration of Damascus in the Arab family for their own reasons. While Russia wishes to end Syria's isolation, Israel hopes for tighter control over Damascus's relations with Tehran.
Nevertheless, these efforts would not necessarily lead to substantial support for Assad and would be even less likely to trigger a paradigm shift in the ongoing conflict. The main Arab objective is to provide Assad with an emergency lifeline to prevent a meltdown of the Syrian state in the light of wavering Russian support and therefore a new wave of chaos in the region. A boost to overcome other geopolitical rivalries would require international backing that neither Russia nor the US are interested in or capable of giving to one camp or another. Moreover, the Saudi stance on Syria remains so far unchanged as Riyad hardly sees any benefit from reopening relations with Assad. Without the support of Saudi Arabia, little advance is expected.
Conclusion
Meanwhile, the US and the EU will continue to reject initiatives by Arab states to normalise relations with Assad. Expectations that Damascus could distance itself from Tehran remain wishful thinking. Turkey is not about to relinquish its presence in Syria even if new dialogue channels open. Most importantly, regardless of the outcome of the Ukrainian conflict, Russia is to remain an important actor in the Syrian conflict, albeit less influential, particularly thanks to its naval base in Tartous and air base in Hmeimim. The Russian invasion of Ukraine may lead to structural changes in neighbouring security complexes and benefit Turkey and Iran as regional hubs in a networked world order but the extent of its impact on Syria is limited. Essentially, the Ukrainian conflict will not trigger a paradigm shift in the Syrian conflict. It will instead entrench the status quo and further complicate negotiations over a political transition and restoration of the country's territorial integrity.
* Sinan Hatahet is a senior research fellow at the Sharq Forum, Omran for Strategic Studies and a research associate on the Wartime and Post-Conflict in Syria (WPCS)project at the European University Institute in Florence. Hatahet's research interests include the dynamics of Syria's national and local economies; non-state actors; the Kurdish political movement; and the emerging regional order in MENA.
For an overview of all our publications, visit our website: https://middleeastdirections.eu/wpcs-project/
* This publication was produced with the financial support of the European Union. Its contents are the sole responsibility of the author and do not necessarily reflect the views of the European Union.